Announcements!
"The Adventure Of The Blue Box" has shut its doors here and moved to a different host. The new site can be found HERE. The admins want to thank everyone who made Blue Box amazing and gave us wonderful memories and fantastic rp adventures. We hope to see you on the new site! Members can still log in and get their stuff if they need.

Patrick Jane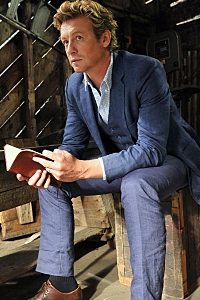 Nickname/s:
Age/DOB:
Marital Status: Single
Sexuality:
Play By: Simon Baker

Occupation:
CBI Consultant
Current Residence:Species:
Human
Personality:
Patrick Jane has a cheerful, cocky and insolent personality and a tendency to ignore authority, often using unorthodox methods to solve a case, which is met with disapproval by his coworkers. Although his methods are frowned upon, Jane is considered to be the finest detective in California. He is capable of amazing feats of observation and induction. Jane is not afraid of taunting others although after the deaths of his wife and daughter he was more cautious and knew that his actions could have terrible consequences.
Although he generally showed a happy, arrogant and flirtatious demeanour, Jane suffered enormous guilt and grief for the deaths of his wife and daughter as well as a ferocious determination to kill Red John, the serial killer that had murdered them. Despite his grudge against Red John, Jane was reluctant to wield weapons except in extreme circumstances; notably when he saved Lisbon with a gun he threw the weapon away immediately afterwards. However when he met the man whom he thought was Red John, Jane mercilessly killed him to avenge his dead family.
Jane was a master manipulator, ironically a trait that was also possessed by his mortal enemy Red John. He was as obsessed with Red John as the serial killer was with him and would do anything to avenge his wife and daughter. Jane rarely formed attachments due to fear of losing loved ones just like he'd lost his family. However there was some chemistry between him and Lisbon and he was willing to break his rule of not using violence (except against Red John) in order to protect her.
History:
Jane was raised by an emotionally abusive con-man father to see all people as marks. He met his wife, also a carnie, and together they left that life. He then earned a living as a professional (and fraudulent) psychic until Red John murdered his wife and daughter in retaliation for Jane's televised mocking.
Jane now works as a criminal consultant for the California Bureau of Investigation. He is brilliant at deduction, but also devious, arrogant, tactless, and occasionally childish and cruel. He annoys the team to
the point of their taking turns going on field trips with him. The murder of his family left Jane devoid of much empathy and feeling. Combined with his con artist upbringing, this has made him a cold and uncaring person with deep anger issues. He hides this by being charming and carefree. Despite this, Jane has started to develop close friendships with his colleagues, especially Lisbon.
He often shows his darker side concerning Red John, the serial killer who
murdered his family. When dealing with him, Jane becomes intense, focused, and willing to sacrifice anything, including his life or the lives of others, to catch and kill him. However, he does shoot a man with information about Red John to save Lisbon. Later Jane proves his dedication to kill Red John when he shoots and kills Timothy Carter; an accomplice who pretended to be Red John in order to bait Jane into a trap that would land him in prison. Soon Jane realizes that he has been deceived, and regretfully tricks the jury into freeing him of all charges, thus foiling Red John's apparent plan.
He owns a classic French car, a metal grey Citroën DS.
Alias:
Ev
Means of Contact/s:
PM, email
Other Characters:
Anthony and Nathaniel Wellingtons, Allisson Carter
Last edited by Patrick Jane on Fri Nov 02, 2012 2:34 am; edited 3 times in total
Well hello Mr.Jane, I can see we are similar in many ways
_________________________________________________________________________________________________________________________________________________________
Sergeant





Posts

: 305


£

: 5794


Reputation

: 9

---

Location

: London



Nice to meet you Mr Holmes, I've heard rumors
_________________________________________________________________________________________________________________________________________________________
Patrick Jane, good to finally meet you.
Police Constable





Posts

: 108


£

: 6792


Reputation

: 0

---

Location

: Cardiff, Wales



Same here, Ianto *smiles a dazzling smile*
_________________________________________________________________________________________________________________________________________________________

---
Permissions in this forum:
You
cannot
reply to topics in this forum