Announcements!
"The Adventure Of The Blue Box" has shut its doors here and moved to a different host. The new site can be found HERE. The admins want to thank everyone who made Blue Box amazing and gave us wonderful memories and fantastic rp adventures. We hope to see you on the new site! Members can still log in and get their stuff if they need.

Alexandra Joanne Ryleigh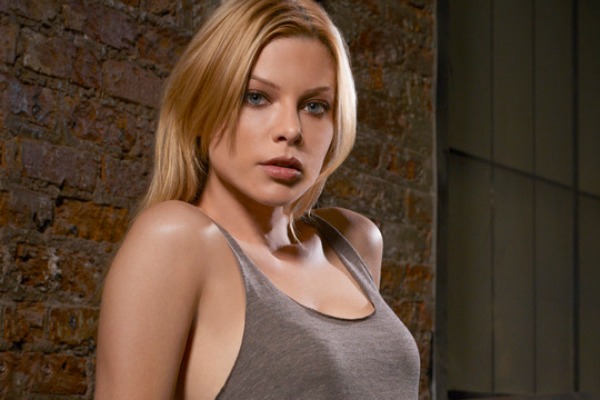 Nickname/s: Alex, Al, Lexa, AJ
Age/DOB: November 29, 1981
Marital Status: it's complicated
Sexuality: straight
Play By: Lauren German

Occupation:
Paramedic
Current Residence:
Apartment in London
Species:
human
All my life I've been good but now...


I'm thinking, what the hell?
Personality:
Alexandra, or Alex as she likes to be called, is a strong willed young woman, who usually does use her head before she talks or act. She's a rather good-tempered and phlegmatic, so it takes a lot to make her upset and go out of her skin, but beware if she does!
When it comes to her own feelings, she can be very sensitive, although she usually is emotionally quite strong and can take a lot.
Alex has a good ability to feel with other people. Empathy often makes her job as a paramedic a lot easier.
Yet her sensitivity is also one of her weaknesses for she sometimes gets hurt easily, without really having to feel that way. One wrong word might be enough to hurt her feelings. Add to that, Alex can be stubborn at times, especially when it's about helping people. She's usually assertive, as well, but sometimes, rarely though, her stubbornness gets her into trouble.
Her biggest weakness though, and the one thing she hates about herself is her fear of spiders. Even tiny ones just freak her out and she doesn't have a clue why. She wants to be all tough, but if she sees a spiders she simply turns into a little girl, scared out of her skin, although she has practice in dealing with it now, it's still something she wants to work on.
When the atmosphere and the mood is right, Alex has a bad-girl-attitude, not caring about messing around. But she still has dignity, though. She would never mess with a friend of her friends. Alexandra sees that side of hers more like a weakness and it's something she doesn't like to show everyone. And yet, sometimes she can't help it. Sometimes that side just takes over and she enjoys herself having a good time.
History:
Alexandra Joanne Ryleigh was born on November 29, 1981 in London. She's the oldest daughter of average, hard-working parents Richard and Lucy Ryleigh.
Ever since she was born, Alexandra had a good life. Her parents worked hard to give her everything she needed, so she would have the best childhood possible. Especially since the little girl was born a months early and was only two months old when she got seriously sick with pertussis (whooping cough). She had to be taken to the hospital, because it was so bad, she could hardly breath. But luckily she got over it and developed just fine. But still was a shock for the young parents.
Three years later, Alexandra's younger twin brothers Michael and Daniel were born. They took up a lot of their parents' time and it was something Alex had to adjust to quickly, but she managed and she has a very strong and good relationship to both of them. She's always been protective over them, especially since they went to school. She would always protect them, if someone dared making fun of them and bugging them.
Throughout her childhood and most of her youth, Alexandra had the good-girl reputation, not messing around with guys, but doing very well in school. Doing good in school and making her parents proud was always very important to Alex, especially since she wanted to be a good idol for her brothers. She worked hard and when she was 16 she joined the auxiliary fire brigade and stayed there until she finished College.
After College Alex decided to join the Ambulance Service and train to become a paramedic. During her time as a voluntary fire fighter, she realized that it was her wish to help people. She decided that wanted to become a paramedic. And so she went on again, with hard work and finished her training.
Now she rides along in the ambulance with her partner Shelly Franklin and has been working with her for many years now.
Outside of work, Alex is an outgoing young woman who likes to have a good time. She likes partying when she has time, meeting her friends and she also likes doing sports. She's part of a Judo-group and trains with them once a week.
A few years ago she took part in a photoshoot for a good cause and she considers doing that again in the future.
Her love life, though, is totally different story. Right now, she's single and not certain about what she really wants. She would love to have a boyfriend, settle down and have kids, but she doesn't seem to find the right one. And added to that, she finds herself falling for her best friend Andy, whom she currently shares her apartment with. But somehow, she isn't sure that Andy might feel the same way about her, hence her bad-girl attitude has been taking over quite a lot lately.
Alexandra's currently brunette.
All those crazy things we did
Didn't think about it, just went with it
You're always there, you're everywhere

But right now I wish you were here
Alias:
Michi
Means of Contact/s:
PM
Other Characters:
Yasmin Mae Collins
Member that referred you/How you found us:
Me, Myself and I

I'm a member almost as long as the forum is up

Probie





Posts

: 22


£

: 4917


Reputation

: 0

---

Location

: London



Ooh, another paramedic, eh? Well, welcome. Glad that they're finding more of you lot. Earth's so accident-prone it seems.
~
Accepted and added, twin!

_________________________________________________________________________________________________________________________________________________________

Chief Inspector





Posts

: 770


£

: 7884


Reputation

: 17

---

Location

: Here, There, Everywhere!



why, thank you. I'm secretly hoping that I might meet Mr. Holmes on the job one day. Well... not that I like seeing dead people or something...
~ ~ ~ ~ ~
thanks, twin

I see I was added to Fire and Rescue, YAY!

Probie





Posts

: 22


£

: 4917


Reputation

: 0

---

Location

: London




---
Permissions in this forum:
You
cannot
reply to topics in this forum